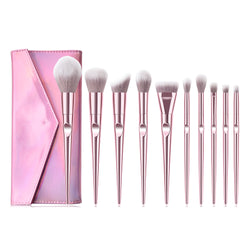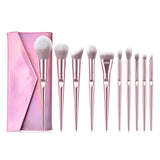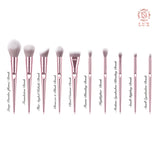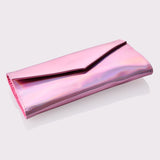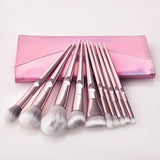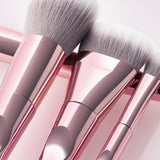 Rose Gold Makeup Brush Set

10 Luxurious Rose gold make-up brushes in a complimentary holographic bag 
FEATURES
 This premium quality make-up brush set comprises of 10 different brushes that glide smoothly onto your skin. Each brush is designed for a specific purpose that caters for all of your cosmetic needs.
 The brushes each have a stunning rose gold metallic handle which is tapered with a thumb imprint that makes them a joy to use. The bristles are made from soft synthetic hair which feels silky and fluffy on the skin whilst also ensuring they are easy to clean and maintain.

 The complimentary holographic bag holds the brushes in place in individual pockets, making them perfect to take along with you when you're on the go. (Note: The larger brushes are covered with protective nets to help maintain their shape). 
Brushes
Large Powder (flame) Brush
Foundation Brush
Flat Angled Kabuki Brush
Bronzer & Blush Brush
Chisel Contour Brush
Fusion Blending Brush
Highlighter Brush
Medium Eyeshadow Blending Brush
Small Stippling Brush
Small Eyeshadow Brush 
    Vegan Friendly | Cruelty Free
Large Powder (flame) Brush
This brush comprises long, soft, fluffy bristles which are ideal for applying loose powder evenly across your face. The brush, ever so lightly, helps "set and touch up" your make-up without making it look cakey or distorting any other make-up present.
To use, pick up a layer of loose powder with the brush (tap away any excess content first instead of blowing), and dust the powder under your eyes and over your T-zone.
Depending on your preference, simply use a light dusting technique to help set your concealer/foundation or add more of the powder to 'bake' your make-up.
Foundation Brush
 This brush, with its densely packed soft bristles and dome shaped top is ideal for applying liquid foundation. The brush makes it easy to buff out and blend foundation to provide a natural and flawless full coverage finish.
Flat Angled Kabuki Brush
The densely packed soft bristles with a flat angled top makes this brush multi-functional. It is designed to be used for applying liquid and powder formulations to the face, as well as contouring and blending. The angled shape is useful for precise application, as well as targeting harder to reach areas.
Bronzer & Blush Brush
This brush is made from soft, fluffy bristles with a dome shaped top, making it ideal for applying loose/pressed bronzer, blush and/or highlighter. The fluffy nature of this brush allows less product to be transferred whilst also distributing the powder pigments more evenly to provide a seamless, subtle look.
Some useful tips when using this brush:
When using a bronzer, select a shade that is one or two shades darker than your natural skin tone the face
After swirling the brush in your chosen bronzer shade, be mindful to blow/tap of any excess before applying to 
Use this brush to apply the bronzer to your forehead, cheekbones, and jawline (e.g. in a '3' shaped pattern).
When applying blusher using this brush, once again tap of any excess, then gently sweep the brush upwards from the apples of your cheeks to your cheekbones 
 Chisel Contour Brush
This brush is distinguished by its flat top and 'pinched' sides which makes it ideal for applying, buffing and blending contour powder evenly and with precision.
For a chiselled look, gently sweep this brush back and fourth to apply contour powder to the top of your forehead, along your hairline, across your cheekbones and onto your jawline.
When contouring your nose we suggest using Concealer & buffer Brush. 
6. Fusion Blending brush
 This soft and fluffy brush is designed to blend eyeshadow onto the eyelids/creases effortlessly with complete ease. Not only is it used to create a mesmerizing, natural looking, soft focus effect, it can be used to set concealer with a powder or used to highlight underneath the brow bone.
 7. Highlighter Brush
 The soft, long & fluffy tapered bristles of this brush are ideal for applying and blending powdered highlighter. The design of the brush allows the pigments to sweep on gently giving a seamless, luminescent finish.
Using this brush, apply highlighter to specific areas of your face that are naturally hit by the sun e.g. on top of your cheekbones, down the centre of your nose, the inner corners of your eyes, brow bone and cupids bow. 
8. Medium Eyeshadow Blending Brush
The soft, slightly fan shaped bristles on this brush glide smoothly over the eyelids to help blend and diffuse powdered eyeshadow seamlessly.
 When creating a smokey-eye effect or blending multiple shades together, gently swirl this brush in small circular motions into the creases of your eyelids.
9. Small Stippling Brush
 This versatile brush can be used for applying liquid foundation, concealers and powders such as blush and bronzers. It is can be used to dab, buff, and blend make-up offering a precise and even application giving the ultimate airbrushed, full coverage effect.
Use this brush to gently dab your desired concealer where needed e.g. underneath your eyes (to help cover dark circles), or to any spot/blemishes you wish to hide. Applying concealer underneath your eyes is best done in an upside down triangle shape. To finish buff and blend accordingly.  
 Small Eyeshadow Brush
 The soft, densely compacted short bristles makes this brush ideal for picking up and applying  a concentrated amount of eyeshadow to allow a premium pigmented look.
The brushes are made from soft synthetic hair material.
The oldest remains of a cosmetic brush dates back to the 6th Century and was discovered in a Saxon Cemetery in 1912. 
The earliest records of make-up brushes being used date back to Ancient Egyptian times.
Japan had a long history of making brushes for calligraphy, dating back over 2000 years. The skills transferred to creating make-up brushes in recent times as the demand for calligraphy brushes declined.