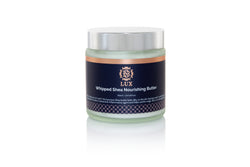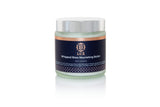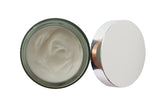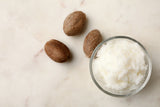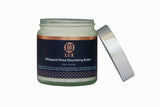 This luxurious shea butter glides like silk on the skin leaving it feeling soft nourished & highly moisturised
FEATURES  
Rich in Vitamins A, E & F, as well as fatty acids, this Shea Butter is also infused with Lavender, Rose Geranium and Honey fragrances, giving it a fresh delicate aroma. 
 Shea Butter is highly nutritious & moisturising and works wonderfully in conditioning and toning the skin. It melts deep into the epidermis without clogging pores, allowing the skin to breathe freely.
 Specifically, this premium, vegan friendly formula offers the following benefits:
Helps keep the skin healthy, replenished and silky smooth
Soothes rough, dry & chapped skin
Improves elasticity of the skin helping to remove the appearance of fine lines/wrinkles, stretch marks, and cellulite
Its natural anti-inflammatory properties help with conditions such as Rheumatism, Calluses, and Eczema
Its anti-microbial properties can help reduce acne
Helps in soothing sun damage/ peeling skin
For added skin nourishment & radiance check out our Hydration & Glow Trio. 
Beneficial Ingredients 
Shea Butter -
 has anti-inflammatory, hydrating & healing properties which help protect, moisturise and soothe the skin 
Olive oil - 
rich in Vitamins A, D, E & K which prevent premature signs of ageing
Avocado oil - 
hydrates, moisturises and replenishes dry skin 
Sunflower oil -
 rich in Vitamins A & E which act as antioxidants. Helps regenerate damaged skin cells 
Coconut oil - 
calms and protects the skin from harmful bacteria. Helps reduce inflammation 
Organic palm oil - 
has antioxidant properties.
Nourishes and hydrates the skin leaving it feeling soft and supple
Lavender essential oil - 
has anti-septic and anti-bacterial properties. Soothes and brightens skin, reduces fine lines/wrinkles & acne. Has stress reducing benefits 
 Rose geranium oil - 
has anti-oxidant, anti-ageing, and anti-microbial properties 
 Note: Ideal for dry/sensitive skin
Cruelty Free | Vegan Friendly | Paraben/ Sulphate Free
Gently massage Shea butter onto the skin for instant smoothness and hydration. Apply generously morning and evening for optimal results. 
 WARNINGS: For external use only, avoid direct contact with the eyes. Keep out of reach of children. Store in a cool dry place out of direct sunlight.
 Aqua, Butyrospermum parkii (Shea butter), (Emollient, skin conditioning agents, anti-inflammatory, viscosity increasing agent), Cetearyl alcohol & Polysorbate 60, (emulsifying, nutrients and anti-oxidants), Olea europaea (Olive oil), (Skin conditioning agent, hydrate skin, cleaning agent), Persea gratissima (Avocado oil), (Nourishes skin, emollient, moisturising),Helianthus annuus (Sunflower oil), (Skin conditioning agents, emollient, nutrients, and antioxidants),Cocos nucifera (Coconut oil), (Emollient, skin/hair conditioning agents), Elaeis guineensis (Organic Palm oil), (Emollient, Anti-aging, cleansing, moisturising, anti-oxidant), Phenoxyethanol, Ethylhexylglycerin, (Preservative), Stearic acid, (Surfactant cleansing/ emulsifying agent), Xanthan gum, (Binder; emulsion stabilizer; skin conditioning agent surfactant, emulsifying agent, viscosity increasing agent), Lavandula angustifolia oil (Lavender essential oil), Pelargonium graveolens oil (Rose geranium oil), Citronellol*, Coumarin*, Geraniol*, Limonene*, Linalool*.
* Naturally occurring in essential oils
Shea comes from the nut of the African Shea Tree Vitellaria Paradoxa. It takes 15 to 25 years for the tree to start producing fruit, which it continues to do for the next 200 years. 
Due to its healing properties, in Africa Shea is known as 'Karite' which means 'Tree of Life'
In Africa Shea means 'Life'. It is also commonly known as 'Woman's Gold'.