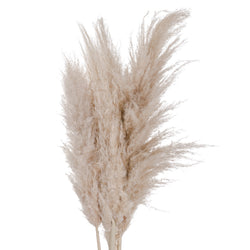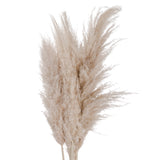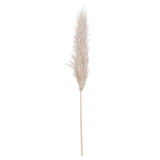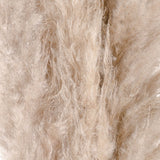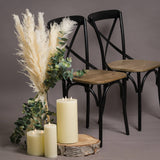 Introducing our stunning Cream Pampas Grass, the perfect addition to any home looking to add a touch of natural beauty and on-trend style. This single stem of natural, dried pampas is easy to style and brings a soft and timeless look to any room.
The Cream Pampas Grass is irresistible to the touch and pleasing to the eye. With its soft and fluffy plumes, this dried grass adds a warm and organic feel to any room. Its timeless elegance is perfect for any decor style, and it looks stunning as a single stem or combined with more for a more impactful display. This product is completely natural, ensuring that each stem is unique and one-of-a-kind. So, whether you're looking for a simple and stylish addition to your home or a striking centerpiece for your next event, the Cream Pampas Grass is sure to impress. Order yours today and experience the beauty of nature in your home!
Please note that this product is completely natural and may vary in color shade, length, width, and fullness, making each stem unique and one of a kind. So, bring the beauty of nature into your home with our Cream Pampas Grass and enjoy its timeless elegance for years to come!
On-trend and simple to style, this single stem of natural, dried pampas is a must-have for your home. Team it with our stoneware vases for a soft and timeless arrangement. Irresistibly tactile and pleasing to the eye, the Pampas Grass looks effective as a single stem in a vase or style with more for maximum impact! Please note, this item is a completely natural product and may vary in colour shade, length, width and fullness.
Pampas
Carefully selected and dried
Handcrafted
Did you know that pampas grass is not only visually stunning but also has a historical significance? Native to South America, particularly the pampas region of Argentina, the grass has been used for centuries by indigenous communities for various purposes.
In addition to its decorative uses today, historical accounts suggest that indigenous tribes utilized pampas grass for making baskets, clothing, and even musical instruments. The strong, durable fibers of the grass lent themselves well to these practical applications.
So, the next time you admire the graceful plumes of pampas grass adorning a space, remember that you're not just appreciating its aesthetic appeal – you're also connecting with a tradition that spans cultures and generations!