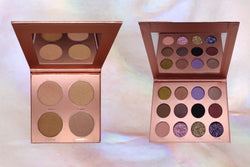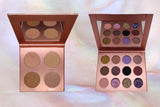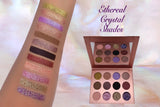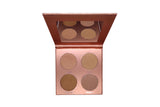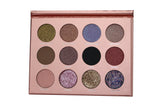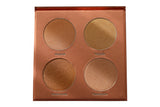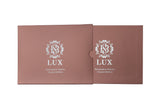 Mesmerising Eyeshadow & Highlighter Palettes

Luxurious Limited Edition  - Mesmerising Allure Eyeshadow & Highlighter Palettes 
BESTOW A SUN KISSED IRIDESCENT GLOW UPON YOUR FACE AND MESMERISING ALLURE TO YOUR EYES
Eyeshadow Palette -
Ethereal Crystal Shades Edition
Inspired by the ethereal beauty of natural crystals, this eyeshadow palette (with mirror) brings you twelve specially designed tantalising shades. This premium formulation is ultra blend-able, buildable and highly pigmented. It offers rich, smooth and velvety textures that provide the ultimate crease-free, customisable and long-lasting flawless finish.

TEXTURES/FINISHES: Matte/ Pressed Glitter/Metallic/Satin/Shimmer
SHADES
Hazel Henna
 – Golden sands, 
metallic finish
Padparadscha
 - Lustrous pink champagne, 
metallic finish
Cyclamen Opal
 - Light lilac holographic, 
shimmer finish
Light Peach
 - Light peach 
satin finish
Mocca
 - Chocolate cocoa, 
matte finish
Axinite
 - Violet velvet, 
satin finish
Onyx
 - Smokey black, 
matte finish
Fuchsia
 - Deep plum, 
metallic finish
Rosaline
 - Baby pink, 
metallic finish
Amethyst
 - Pink rose, 
pressed glitter
Dorado
 – Bright gold, 
pressed glitter
Tanzanite
 - Mermaid blue, 
pressed glitter
 Highlighter Palette - Solaris Shades Edition
Inspired by the sun, this 
Solaris Shades'
highlighter palette (with mirror) has been designed to amplify the skins' natural radiance, giving the appearance of being lit from within - contributing to an all-round illuminating glow.
The palette comprises 4 pressed powder shades, each created with the help of professional make-up artists. The premium formulation delivers a long-lasting soft and buildable luminescent finish. 

Antares - Rose gold sparkle sunset
Capella
-
Intense champagne shine
Andromeda
-
Deep bronze sun kissed glow
Cassiopeia
-
Luminescent ocean peach silk
 Vegan | Cruelty Free | Paraben Free