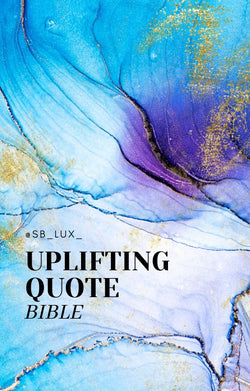 Introducing the Sb Lux Uplifting Quote Bible - the ultimate source of inspiration and motivation that will unlock the power of your mind! With this extraordinary eBook, you will have access to an unparalleled selection of quotes from some of the most influential people in history.
Our expert team has carefully curated a collection of uplifting and empowering quotes that will ignite your passion and drive you to succeed. From famous philosophers and world-renowned leaders to modern-day influencers and motivational speakers, our eBook has it all.
Designed with a sleek and modern layout, our eBook is easy to navigate and incredibly user-friendly. Each quote is beautifully formatted and presented in a way that is sure to capture your attention and leave a lasting impression.
Whether you need a quick pick-me-up during a busy workday or a moment of reflection before bed, our eBook is the perfect companion for anyone looking to elevate their mindset and achieve their goals. With its powerful messages of positivity and encouragement, you'll be inspired to take on any challenge that comes your way.
So why wait? Unlock the power of inspiration today and order your copy of the Sb Lux Uplifting Quote Bible. It's time to start living your best life and spreading the power of positivity to those around you!