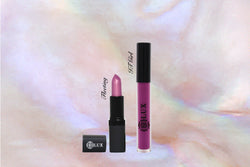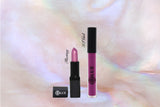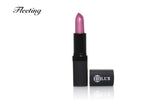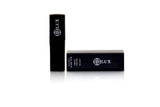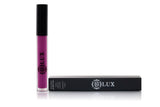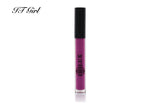 Violet Lipstick & Lip Lacquer - Chrome Duo

Fleeting Lipstick + It Girl Lip Lacquer 
Conjure up some regal mystery with our violet vibe duo! 
Fleeting  - Pealized Matte: Bright Lilac & Gold Duo Chrome Sheer Matte Lipstick
This Luxurious Sheer Matte Lipstick is perfect for sculpting and moisturising. The velvety texture glides smoothly over the lips to produce a long-lasting, (smudge free) flawless finish. 
The lipstick is enriched with the anti-oxidant Vitamin E to help protect and nourish your lips leaving them feeling supple and irresistibly soft.
Containing intense pigments, this lipstick produces a unique & vivid lilac shade offering absolute full coverage.
The premium blend also contains a natural vanillin extract which smells absolutely delicious.
It Girl - Fuchsia Based Bright Mulberry Purple Lip Lacquer
 Infused with intense pearlescent pigments this lacquer creates a 3D chrome effect with high- watt shine. It reflects and absorbs light in such a way as to add further volume to the lips making them appear fuller, plump and seductive.
The long wear hybrid formula glides effortlessly onto your lips offering more coverage and luminescence than your typical lip-gloss. 
It provides a non- drying finish making it fade proof and long lasting.
Cruelty Free | Paraben Free | Hypo-Allergenic | Non-Comedogenic