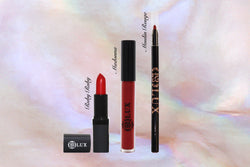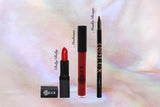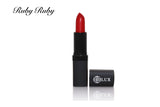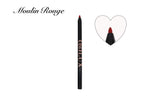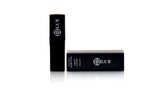 Best Lip Kit - Sheer Matte Lipstick + Lip Lacquer + Lip Liner
A touch of tantalizing sophistication - let your lips to do all the talking without a sound!
Moulin Rouge - Dreamy Matte Lip Liner
This rich, smooth and creamy matte lip liner is designed to outline, redefine and shape the lips for a fuller, more voluptuous seductive look. 
It is highly pigmented, waterproof and long lasting.
The premium formulation glides on easily and precisely helping your lipstick adhere to your lips without smudging, feathering or fading.
Ruby Ruby - Intense Chilli Red Sheer Matte Lipstick
This Luxurious Sheer Matte Lipstick is perfect for sculpting and moisturising. The velvety texture glides smoothly over the lips to produce a long-lasting, (smudge free) flawless finish. 
The lipstick is enriched with the anti-oxidant Vitamin E to help protect and nourish your lips leaving them feeling supple and irresistibly soft. 
Containing intense pigments, this lipstick produces a unique & vivid nude shade offering absolute full coverage.
The premium blend also contains a natural vanillin extract which smells absolutely delicious.
Madonna - Bright Metallic True Candy Apple Red: Metal Vinyl Lip Lacquer
 Infused with intense pearlescent pigments this lacquer creates a 3D chrome effect with high- watt shine. It reflects and absorbs light in such a way as to add further volume to the lips making them appear fuller, plump and seductive.
The long wear hybrid formula glides effortlessly onto your lips offering more coverage and luminescence than your typical lip-gloss. 
It provides a non- drying finish making it fade proof and long lasting.
Cruelty Free | Paraben Free | Hypo-Allergenic | Non-Comedogenic