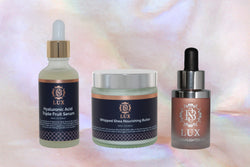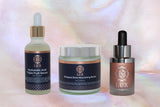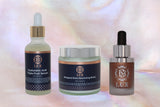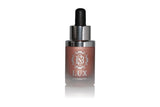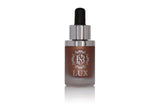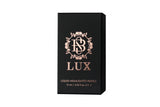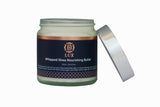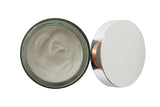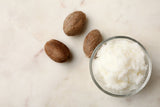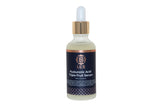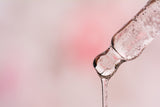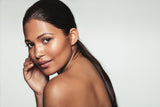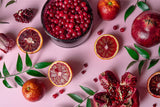 Hydration & Glow | Hyaluronic Acid + Shea Butter + Liquid Highlighter
 Hyaluronic Acid Triple Fruit Serum + Whipped Shea Nourishing Butter + Liquid Highlighter
Nourish your skin and help it retain its moisture & youthful glow! Your skin will thank you for keeping it hydrated and protected throughout the day leaving it feeling plumper, softer and radiant.
Firstly apply the Hyaluronic Acid Fruit Serum onto cleansed, damp skin.
With its Hyaluronic acid, Vitamin B5, and triple fruit extracts (Grapefruit, Raspberry & Cranberry) this serum, acts as a powerful tonic for your face helping to quench its thirst and provide the nourishment it needs. It works as a humectant to stabilise the skin barrier ensuring that the skin retains moisture for longer 

Improves skin elasticity, restoring its suppleness

Has skin softening properties that leaves the skin feeling irresistibly smooth

It is known to promote plumper looking skin leading to the appearance of a healthy youthful radiant complexion 

It has healing and antibacterial properties which help regenerate skin cells and also aid in reducing acne

Can help reduce redness and alleviate itching  
Next, apply the luxurious Whipped Shea Nourishing butter, which glides like silk and works closely with the serum leaving the skin feeling soft, nourished and highly moisturised. 
Rich in Vitamins A, E & F, as well as fatty acids, this Shea Butter is also infused with Lavender, Rose Geranium and Honey fragrances, giving it a fresh delicate aroma. 
 Shea Butter is highly nutritious & moisturising and works wonderfully in conditioning and toning the skin. It melts deep into the epidermis without clogging pores, allowing the skin to breathe freely.
Helps keep the skin healthy, replenished and silky smooth
Soothes rough, dry & chapped skin
Improves elasticity of the skin helping to remove the appearance of fine lines/wrinkles, stretch marks, and cellulite
Its natural anti-inflammatory properties help with conditions such as Rheumatism, Calluses, and Eczema
Its anti-microbial properties can help reduce acne
Helps in soothing sun damage/ peeling skin
Finally, the pearlescent liquid highlighter will bestow a dewy illuminating glow upon your face, giving the illusion of being lit from within. 
Endowed with a pearl like shimmer, every drop of the Liquid Highlighter glides effortlessly onto the skin to help create a luminescent/dewy complexion.
Not only is this intensely pigmented and refined formula ultra-blendable, it is also very versatile as it can be used standalone or with other make-up products (e.g. add/mix with your favourite foundation, primer, or moisturiser to help enhance the skins natural beauty). 
SHADES
Peach Champagne -

 
A light pink rose based shimmer that adds a warm rosy glow
Tahitian Toffee - A terracotta toned shimmer that creates a rich warm tanned glow
This Hydration & Glow Trio Contains:
Hyaluronic Acid Triple Fruit Serum (Grapefruit, Cranberry & Raspberry Extracts)

Whipped Shea Nourishing Butter
Liquid Highlighter of your choice ( Peach Champagne or Tahitian Toffee).  
 Vegan Friendly | Cruelty Free | Paraben & Sulphate free