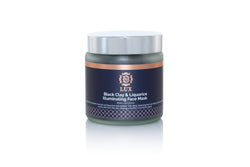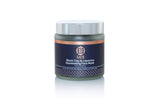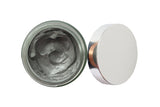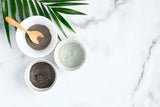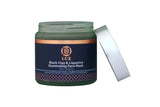 Dead Sea Mud Mask with Black Clay & Liquorice
Glowing skin is in 
 FEATURES
 Sit back and relax whilst this deep cleansing facial mask soothes your skin and gently draws out impurities leaving healthy & glowing skin.
This delicious smelling Face Mask contains dead sea mud, kaolin clay, activated charcoal and liquorice root extract. Infused with Blackberry and Ylang Ylang Essential Oil (EO) blend, these
ingredients
work together to produce a spa at home feel. 
The activated charcoal mask helps draw out bacteria, dirt and impurities from the surface of the skin. The liquorice root acts as an anti-inflammatory soothing agent, whilst the black clay and kaolin clay provide a deep cleanse and radiant skin.

 Specifically, this premium, vegan skincare formula can offer the following benefits:
Penetrates the pores, reducing black head formation, pimples, and acne

Acts as a brightening agent improving skin tone and radiance 

Eliminates excess natural oils

Improves blood circulation

Has anti-inflammatory properties which soothes the skin and helps treat eczema and rosacea on face

Mitigates the effects of sun damage/irritated skin

Helps combat hyperpigmentation

Helps slow down the signs of premature ageing/ wrinkles
 For extra revitalization, our Facemasks & Scrub - Skin Detox Set is a must have!
 Beneficial Ingredients
Dead sea mud - helps remove impurities and dead skin, keeping it healthy & silky soft   
Kaolin clay - helps exfoliates, detoxifies and tone the skin 
Activated Charcoal - helps cleanse and unclog pores 
Sunflower oil - rich in Vitamins A and E which have antioxidant properties. Helps regenerate damaged skin cells 
Olive oil - rich in Vitamins A, D, E and K which help prevent premature signs of ageing 
Shea butter - has anti-inflammatory and healing properties. Helps moisturise and soothe the skin  
Apricot Kernel Oil - helps keep skin soft, supple and radiant 
Liquorice root extract - has anti-ageing and skin soothing properties. Helps combat hyperpigmentation/ acne scars 
Oat silk - helps remove dead skin cells. Has a brightening effect and improves skin tone/complexion 
Cedarwood essential oil - contains anti-inflammatory and antimicrobial properties 
Vitamin E - helps combat effects produced by free radicals, reduces inflammation and contributes to healthy younger looking skin
Hyaluronic acid - retains moisture, keeps skin hydrated/ protected, increases skin cell production leading to plumper/ softer skin 
Orange essential oil - has anti-septic and anti-inflammatory properties. Improves blood circulation, promotes clarity and radiance 
Ylang Ylang essential oil - has anti-bacterial properties. Helps soothes skin irritation, promote relaxation and increase sexual desire 

NOTE: Ideal for oily skin care
Cruelty Free Skincare| Vegan Friendly| Paraben/ Sulphate Free

Apply a generous layer to clean skin avoiding the delicate eye area. Leave for 5-10 minutes (the mask does not dry out) and wipe away gently using a damp cloth. Rinse face with warm water and pat dry.
 WARNING: For external use only, avoid direct contact with the eyes. Keep out of reach of children. Store in a cool dry place out of direct sunlight.
Aqua, Maris limus (Dead sea mud),  (Ant-wrinkles, skin smoothing, cleansing), Cetearyl alcohol, Polysorbate 60, (Emulsifying, nutrients, and antioxidants), Kaolin (Kaolin Clay), (Removes excess oils, cleanses), (Charcoal Powder), Activated Charcoal, (Gently exfoliates, deeply cleanses, refines pores, remove excess oils),Helianthus annuus (Sunflower oil), (Skin conditioning agents, emollient), Vegetable Glycerin, (Hydrated, a humectant and a substance that attracts moisture to the skin), Olea europaea (Olive oil), (Skin-conditioning agent, hydrate skin, cleaning agent), Cocos nucifera (Coconut oil), (Emollient, Skin/Hair conditioning agents), Butyrospermum parkii (Shea butter), (Emollient, skin conditioning agents, anti-inflammatory, viscosity increasing agent), Prunus armeniaca (Apricot kernel oil), (Skin conditioning agents, a viscosity increasing agent), Phenoxyethanol, Ethylhexylglycerin, (Preservative), Zinc Oxide, (Bulking agent, colorant, skin protectant), Glycyrrhiza glabra (Liquorice root extract), (Smooth, rejuvenating, and anti-irritant), Stearic acid, Xanthan Gum, (Binder; emulsion stabilizer, skin conditioning agent surfactant, emulsifying agent, viscosity increasing agent), Allantoin, (Skin condition agents, skin protectant), Avena sativa meal extract (Oat silk), Moisturise, soften and create a protective film, anti-aging), Tocopherol (Vitamin E), (Anti-oxidant),Sodium hyaluronate (Hyaluronic acid), (Skin restoring Ingredient, anti-oxidant, a water binding ingredient), Citrus aurantium dulcis peel oil (Orange essential oil) Cananga odorata flower oil (Ylang ylang essential oil), Cedrus atlantica bark oil (Cedarwood essential oil), Benzyl alcohol*, Benzyl benzoate*, Benzyl salicylate*, Coumarin*, Eugenol*, Farnesol*, Geraniol*, Isoeugenol*, Limonene*, Linalool*.
* Naturally occuring ingredients in essential oils
Dead Sea mud is thought to have been used by Cleopatra for its rumoured healing properties and to help her retain her youthful radiance.
Liquorice has been used in Ancient Chinese and Ayurvedic therapies as well as by the Ancient Greeks, Romans, and Egyptians for medicinal purposes. 
Liquorice has even been evoked by Italian Knights in the Middle Ages to woo woman they were keen on. They would recite  'L'amore e' un sogno, dolce come il latte e la liquirizia' which translates to  "Love is a dream, sweet as milk and liquorice".