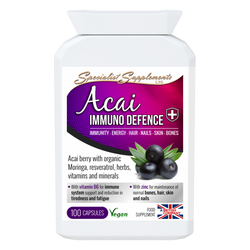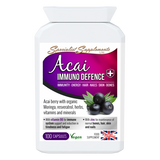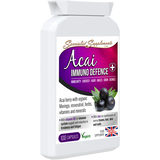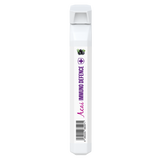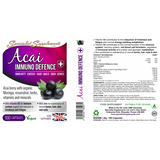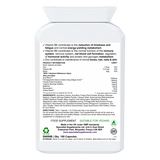 Are you ready to take your health and wellbeing to new heights? Look no further than Acai Immuno Defence - the ultimate food supplement designed to supercharge your health and provide a wide range of benefits.
With a potent blend of Brazilian freeze-dried acai berry powder and extract, vitamins, minerals, and herbs, Acai Immuno Defence is your secret weapon for optimal health. This high-potency formulation is packed with antioxidants, vitamins, and minerals, providing all-round support for energy, immunity, health, and vitality.
But that's not all! Acai Immuno Defence also includes organic Moringa oleifera, beetroot, zinc, vitamin B6, and biotin, offering additional benefits to help you look and feel your best. From improved bone health to healthy hair, skin, and nails, and even enhanced energy levels, this all-in-one supplement has got you covered.
Plus, with approval from the European Food Safety Authority (EFSA), you can trust that Acai Immuno Defence is backed by science and proven to work. So why wait? Experience the amazing benefits of Acai Immuno Defence for yourself and take your health to the next level today!
Take 1 capsule, 1 to 3 times per day or as required.
A fun fact about Acai supplements is that they are derived from Acai berries, which grow on the Acai palm tree in Central and South America. These supplements are often touted for their antioxidant properties and health benefits.