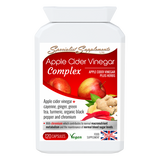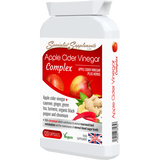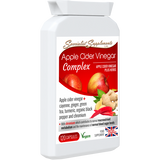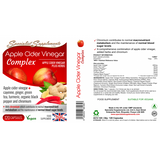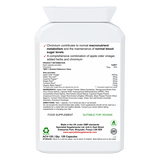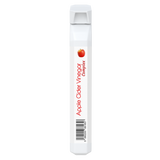 Apple Cider Vinegar Complex
 Looking to kickstart your weight management journey? Look no further than Apple Cider Vinegar Complex! This powerful food supplement is packed with natural ingredients that work together to support healthy weight management and digestion.
At the core of the formula is 400mg of apple cider vinegar powder, known for its potential benefits for digestion, weight loss, and blood sugar control. But that's just the beginning - this complex also includes cayenne, ginger root, turmeric, green tea leaf, organic black pepper, and chromium, all carefully selected to support healthy metabolism and blood sugar regulation.
With cayenne to increase calorie burning, ginger root to soothe your digestive system, and turmeric to fight inflammation, you'll be feeling your best in no time. And with green tea leaf, organic black pepper, and chromium, you'll have the support you need to keep your metabolism firing on all cylinders.
Whether you're a vegetarian, vegan, or just looking for a supplement to support your healthy lifestyle, Apple Cider Vinegar Complex is the perfect choice. So what are you waiting for? Try it today and take the first step towards a healthier, happier you!
Take 1 capsule, 2 to 3 times per day or as advised.
One interesting aspect of apple cider vinegar is its historical use. It dates back to ancient civilizations, including the Babylonians and Egyptians, who used it as a condiment and for its supposed medicinal properties.
In recent years, apple cider vinegar has gained popularity for its potential health benefits, such as aiding in digestion, supporting weight loss, and regulating blood sugar levels. It's also often used as a natural cleaning agent and as a component in beauty and skincare routines due to its acidic nature.