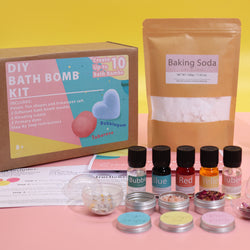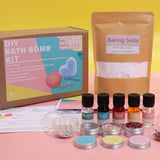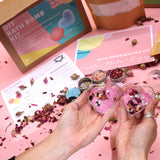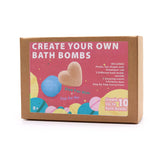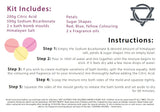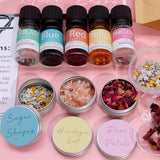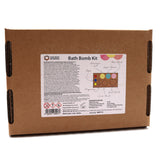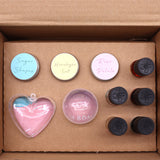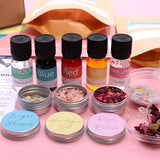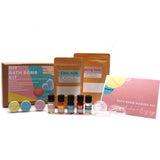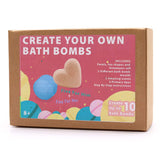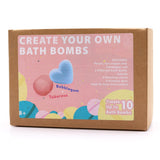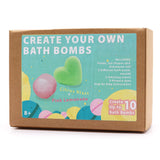 Blissful Creations Bath Bomb Kit
 Transform your bath time into an explosion of creativity and indulgence with our "Blissful Bath Bomb Creations" DIY Kit, proudly crafted in England. Get ready for an exhilarating journey that will awaken your senses and elevate your bathing ritual to new heights!
🛁 Unleash Your Inner Artisan: With this exhilarating kit, the power to craft your dream bath bombs is in your hands. You can create up to 10 luxurious bath bombs and dive into a world of endless possibilities with the aromatic combinations provided.
🌟 Simple & Joyful Creation: Crafting your bath bombs is a breeze! Just mix the included sodium bicarbonate, Himalayan salts, and fragrances, then add the delicate touch of rose petals and delightful sugar shapes into one of the molds provided. In just under an hour, you'll have 10 heavenly scented bath bombs ready to transform your bath.
🎨 Artistry Unleashed: Let your imagination run wild! Experiment with a kaleidoscope of colors, blend various salts and fragrances, and sculpt your ideal sensory journey. Our instruction guide is your passport to inspiration, ensuring you create the perfect mood for your well-deserved relaxation.
🎁 Perfect for Gifting: These one-of-a-kind bath bombs are not just for you; they make unforgettable gifts for your loved ones. Elevate your bath routine with our "Blissful Bath Bomb Creations" DIY Kit and immerse yourself in a sensational and rejuvenating bath time experience like never before!
💝 Treat Yourself or Share the Love: Whether it's a personal indulgence or a thoughtful surprise for someone dear, our bath bomb creations are sure to delight. Grab your "Blissful Bath Bomb Creations" DIY Kit today and make bath time a truly blissful escape!
DIY Kit Includes: Rose Petals, Sugar Fun Shapes, 500g Himalayan Salt, 200g Citric Acid, 2 Different Bath Bomb Molds, 2 Amazing Scents, 3 Primary Dyes, and Step-by-Step Instructions. Elevate your bath, unlock your inner artist, and embark on a journey of pure bath time bliss!