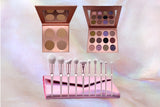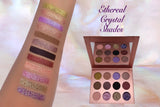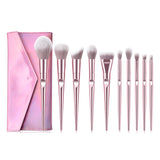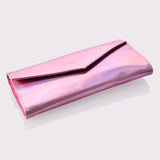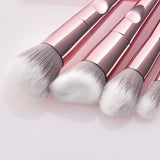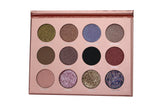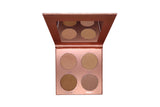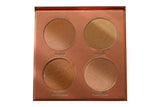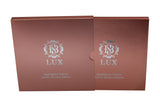 Rose Gold Cosmetic Brushes & Makeup Palettes

Rose Gold Makeup Brush set, Eyeshadow Palette & Highlighter Palette 
Ignite your Ethereal Beauty through Practical Magic! 
The premium quality Rose Gold Make-up Brush set is comprised of 10 customised vegan brushes that glide smoothly onto your skin. Each brush is designed for a specific purpose that together cater for all of your cosmetic needs. The complimentary holographic bag holds the brushes in place in individual pockets, making them perfect to take along with you when you're on the go. 

BRUSHES
Large Powder (flame) Brush/ Foundation Brush/ Flat Angled Kabuki Brush/ Bronzer & Blush Brush/ Chisel Contour Brush/ Fusion Blending Brush/Highlighter Brush/ Medium Eyeshadow Blending Brush/ Small Stippling Brush/ Small Eyeshadow Brush 
Inspired by the ethereal beauty of natural crystals, the Eyeshadow palette (with mirror) brings you twelve specially designed tantalising shades.
This premium formulation is ultra blend-able, buildable and highly pigmented. It offers rich, smooth and velvety textures that provide the ultimate crease-free, customisable and long-lasting flawless finish.
Inspired by the sun, the 
Solaris Shades'
 Highlighter palette (with mirror) has been designed to amplify the skins' natural radiance, giving the appearance of being lit from within - contributing to an all-round illuminating glow.