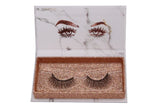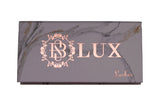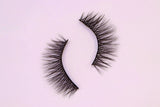 Natural False Eyelashes - Brizo

Luxurious handmade silk lashes - in a complimentary Rose Gold Marble Box
 Brizo
Use 'Brizo' if you're going for a subtle and beautifully natural look. 

These lightweight lashes are delicate and wispy, providing the perfect amount of height and attention to produce an effortless alluring effect.
Delve deep into your inner goddess and allow your aura to exude DIVINE FEMININE!
FEATURES 
Let your eyes do all the talking with these premium, handmade, cruelty free lashes 

Made from pure silk, these lashes are mounted on a 100% cotton band for a safer and more comfortable sitting.

 Suitable for all eye shapes, these lashes can be re-used up to 20 times (with careful maintenance of course).

 The complementary marble rose gold box allows you to keep your lashes safe and secure (especially on your travels), whilst also ensuring they remain hygienic and happy! 
For more fabulous looks to cater for any occasion, check out out our False Eyelash Set | Femme Fatale and False Nails Set - Mermazing. 
First, check the fit by holding the lash strip against your eyelid (along your natural lash line) and trim down if necessary. 
 Next, apply lash glue (not included) to the faux lashes along the cotton strip and wait for the glue to dry (to a tacky like finish) before applying them to your natural lashes. Take care to place the strip as close as possible to your natural lash line. Hold still until the strip is secure and sits comfortably.
Silk lashes attached to 100% cotton strip.
Spare a thought for our sisters who in the late 1800's reportedly used to endure a three-day procedure of having human hair sewed into their top eyelids- without any anaesthetics!!!