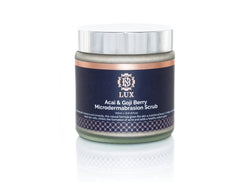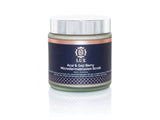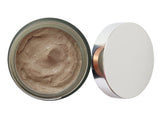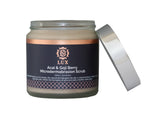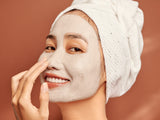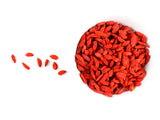 Exfoliating Face Scrub with Acai & Goji Berry Extract
Perfect for removing dead skin cells & clearing pores  
 FEATURES
 This is a delicious smelling Microdermabrasion exfoliating face scrub and mask. It  contains Acai & Goji berry extracts and is infused with Blackberry and Ylang Ylang Essential Oil (EO) blend which all work together to heal and energise the skin. This natural face scrub for men and woman is suitable for all skin types including acne prone and oily skin. 
The natural ingredients, enriched with vitamins, minerals and anti-oxidants offer a nutritional boost to the skin, whilst also providing protection and a deep face clean. As part of your natural skincare routine, the scrub's microdermabrasion properties gently help to exfoliate the skin in a non-invasive manner.  
 Specifically, this premium vegan skincare formula offers the following
BENEFITS
Optimises your skin health
Contributes to natural looking, healthy skin 
Helps to remove dead skin cells
Clears pores on face and inhibits the formation of acne 
Produces glowing skin with a radiant effect
Slows down cell damage caused by free radicals
Tones and restores skin elasticity 
Aids in cell regeneration

Anti-ageing and anti-wrinkle properties
For extra revitalization, our Facemasks & Scrub - Skin Detox Set is a must have!
Beneficial Ingredients
Acai Fruit oil - packed with vitamins A,B,C and E. Contains antioxidant and anti-inflammatory properties 
Goji Berry extract - helps retain moisture and regenerate cells. Has anti-inflammatory and anti-bacterial properties
Beige clay - helps cleanse, draw out impurities, and absorb excess oils
Apricot kernel oil - helps to keep skin soft, supple and radiant 
Coconut oil -
calms and protects the skin from harmful bacteria. Helps reduce inflammation 
Avocado oil - hydrates, moisturises and replenishes dry skin 
Sunflower oil - rich in vitamins A & E which act as antioxidants. Helps regenerate damaged skin cells 

Oat silk - helps remove dead skin cells. Has a brightening effect & improves skin tone
Jasmine - helps protect the skin from environmental stressors 
Sandalwood -  helps exfoliate the skin. Reduces appearance of wrinkles & fights against acne causing bacteria
Cruelty Free Skincare | Vegan Friendly | Paraben/ Sulphate Free

 Apply a generous layer to cleansed face and neck (avoiding the delicate eye are) and rub in circular motions. Leave for 5-10 minutes. Rinse thoroughly with warm water and pat dry.
 WARNINGS: For external use only, avoid direct contact with the eyes. Keep out of reach of children. Store in a cool dry place out of direct sunlight. 
Aqua, (Solvent) Montmorillonite (Beige clay),  (Abrasive, Absorbent, Bulking Agent, Emulsion Stabilizer; Opacifying Agent, Viscosity Increasing Agent), Cetearyl alcohol, Polysorbate 60, (Emulsifying, nutrients, and antioxidants), Prunus armeniaca (Apricot kernel oil), (Emollient, Skin Conditioning Agents, Anti-aging, Potassium oleate, Potassium cocoate, Potassium citrate, Citric acid, (Cleaning),  Pumice, (Polish, exfoliant), Cocos nucifera (Coconut oil), Emollient, skin/hair conditioning agents, Helianthus annuus (Sunflower oil), Emollient, Nutrients, and Antioxidants, Vegetable glycerin, Coco-glucoside, Persea gratissima (Avocado oil), (Nourishes skin, emollient, moisturising), Stearic acid, Phenoxyethanol, Ethylhexylglycerin, (Preservative), Xanthan gum, (Binder; emulsion stabilizer, skin conditioning agent surfactant, emulsifying agent, viscosity increasing agent), Euterp oleracea (Acai fruit oil), (Anti-oxidant, Anti-aging), Lycium barbarum (Goji extract), (Emollient, Skin condition, astringent), Avena sativa meal extract (Oat silk), (Moisturise, soften, & create a protective film, anti-aging). Citrus medica limonum peel oil (lemon), Jasminum officinale (Jasmine), Orchis mascula (Orchid), Amber, Santalum album oil (Sandalwood), Benzyl benzoate*, Benzyl cinnamate*, Benzyl salicylate*, Linalool*.
* Naturally occurring in essential oils
Some Fun Facts about the Acai & Goji Berries used in our Exfoliating Face Mask:
Acai Berries are fruits of the Acai palm tree which is native to Central and South America.  In the Indigenous language 'Tupi Guarani' the name açai translates to 'fruit that cries' (i.e expels water). 
Goji Berries, also known as 'Wolf berries' are native to Asia and have been used since Ancient times in traditional cuisine.
In Ancient China, men believed that drinking Goji Berry juice would increase their sexual libido. 
Woman believed that eating Goji Berries would help enhance their beauty.